What is hot forging in fasteners business?

There are many ways to make hexagon bolt and hexagon socket head screw such as machining by using lathe machine or cold forging which heating material process(Hot forging) is not involved. When we are going to manufacture some fasteners, manufacturing method is a concerned point in term of quality, price, and lead time. These factors also based on product specification and quantity as well.

Let's see advantages of Hot Forging as below,

① Be able to make fasteners in large size due to material is heated so flexibility still remains in the material
②Mold fee is lower than Cold Forging because Hot Forging mold is made of Non-Superalloy steel, so made Hot Forging mold have lower durability but acquired better cost
③ Low quantity production is possible, due to Hot Forging fasteners are made of Round bar which mostly have stock lower preparation time, also mold cost is low
④Material grain flow is not cut, this method will deform the fasteners instead of cut it, so material grain flow will remain and be able to create strong fasteners
⑤Material cost is lower than machining process. Machining process have to use material which is larger than desired size, but in case of Hot Forging, it can be made by using material which is the same size of desired fasteners size.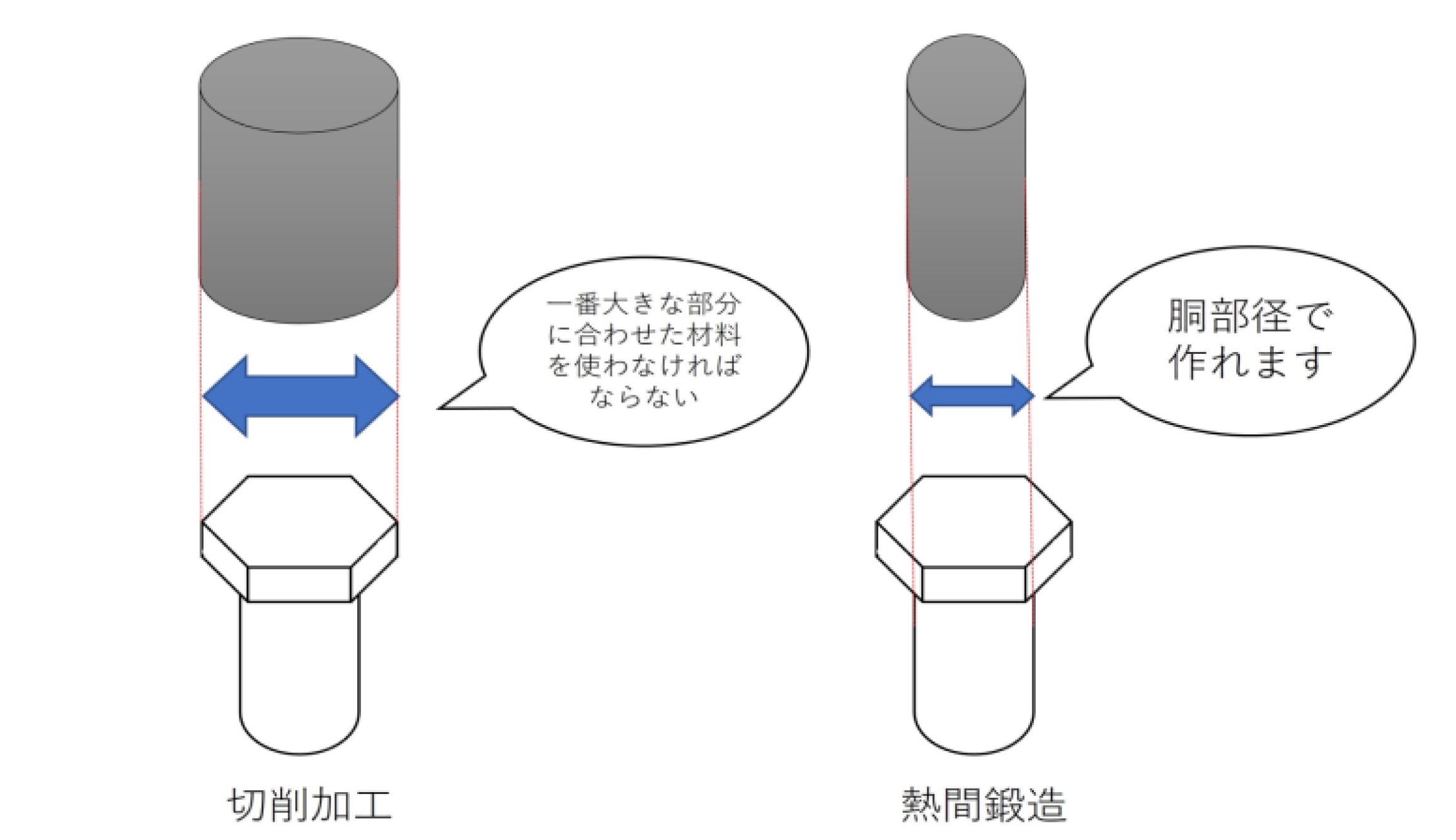 Also, if fastener head is hexagon shape, to cut them into hexagonal shape will take more time, loss more material, and take more time. But with forging process, I can be done by forging that press them into the shape.



As explanation above, we suggest Hot Forging for fasteners which larger than M36 or smaller fasteners which low quantity and product not in stock. In case of urgent need for example, delivery date is Today or Tomorrow, hot forging may not suitable, in this case, machining process is more suitable.



How to make bolts by hot forging process?

Material cutting

Various materials can be processed, S45C, SCM435, SCM440, SNCM439, SUS30 4, SUS316L, brass, and including standard steel (SS400, etc.)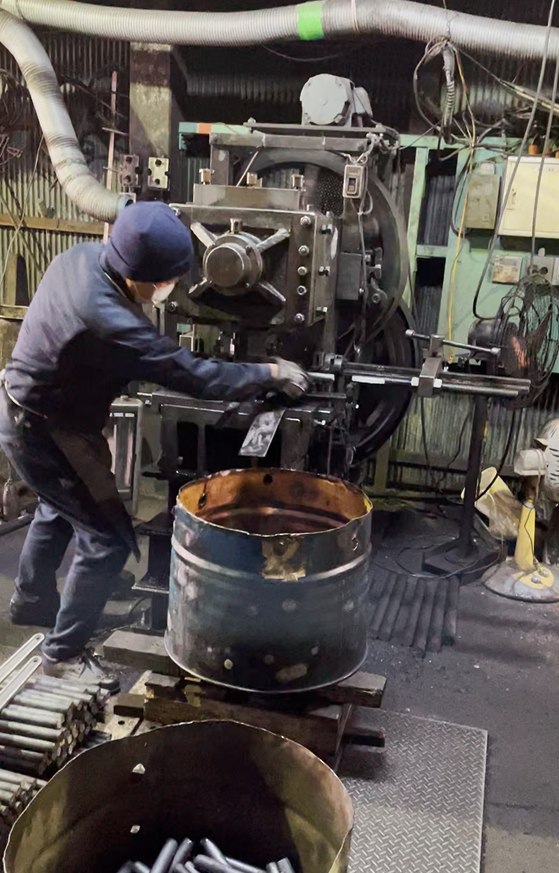 This is the process of cutting bar materials
Heating

Forging

Shot blasting/lathe

Hot forging process creates scale on the surface, so shot blasting is used to clean it up.
You can see the side of the head in the photo below after the shot was applied. The head and body are finished by using a lathe. The part that will become the thread is machined on a lathe to the lower diameter of the rolled part.



Roll the screw

Basically, screws are made by rolling. If you do not have a rolling die due to an unusual thread pitch, etc., consider machining process for the thread.

As you can see, rolling screws are extremely fast and can create beautiful screws. It is also an extremely wonderful technology as no cutting waste is produced.

As you can see, thread rolling is really fast with strong and neat thread with not cutting waste remain, what a wonderful technology.



Heat treatment and surface treatment


Finally, surface treatments such as heat treatment (sometimes this is done before rolling) and plating.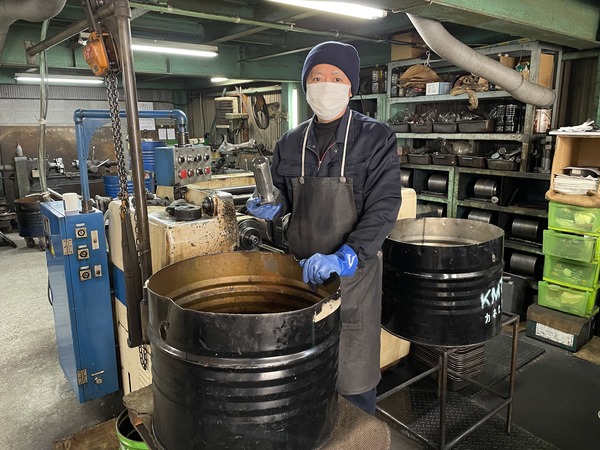 Mr. Yamanaka, who has been working in this field for 20 years


Personally, I prefer hot forging because it made me be able to se material heated in short time then dynamically pressed, it is easy to understand how it turn to be thread.

The way of crafting by hand and seeing red-like material look like the way of making Japanese sword(Even I have never seen it with my own eyes). Hot Forging is truly masterpiece of craftsmanship.

Many of fasteners made by Hot Forging are tend to be large, they are applied to the place like large bridge such as Akashi Kaikyou Bridge, Large-size dam, skyscraper, and other gigantic units. Hot Forging bolt is contributing to the manufacturing unit and society in Japan and the world. As this is essential part for building foundation.

Even though this is a cool and wonderful technology, hot forging fasteners manufacturers in Japan is decreasing significantly due to lack to successors.

Japanese people are good at working with fire this made Japanese fasteners and metal products famous for high quality and renowned around the world. It is amazing how skillful they are dealing with complicated thing such as fire and continue creating amazing product to the world. I would like to keep the hot forging work and do my best to pass this technology to next generations.

By the way, if you have any problems or inquiry with large size bolts, please feel free to contact us!